EMS (electronics manufacturing service) means company that designs, manufactures, tests, distributes and provides return / repair services for electronic components and components for original equipment manufacturers (OEMs). Which also called electronic contract manufacturing (ECM).

HVC Capacitor is professional high voltage component manufacturer , existing customer like Medical Healthcare brand, high voltage power supply brand etc, They asked EMS to do PCB assembly for them. HVC Capacitor already work together with EMS companies like: Plexus, Newways ,Kitron,Venture, Benchmark Electronics,Scanfil, Jabil, Flex etc.
In 2022, MMI (manufacturing market insider), a well-known electronic manufacturing service research website, published the list of top 60 largest EMS service providers in the world. in the past year 2021, through an annual survey of more than 100 largest EMS companies. In addition to ranking suppliers by 2021 sales, the MMI top 50 list also includes sales growth, previous rankings, number of employees, number of factories, facility space, space in low-cost regions, number of SMT production lines and customer data. 
In 2021, the EMS sales of top 50 reached 417billion US dollars, an increase of 38billion US dollars or 9.9% over 2020. Foxconn achieved 10.9% revenue growth from 2020 to 2021, accounting for nearly half (48%) of the top ten revenue; Flextronics revenue growth rate (– 1.8%); BYD electronic revenue growth rate (35.5%); Siix revenue growth rate (30.1%); Revenue growth rate of Guanghong Technology (141%); Revenue growth rate of coreson (58.3%); Connect group revenue growth (274%); Katek's revenue growth rate (25.6%); Huatai Electronics' revenue growth rate (47.9%); Lacroix revenue growth rate (62.8%); SMT revenue growth rate (31.3%).
Overall, the Asia Pacific region accounted for about 82.0% of the revenue of EMS top 50, the Americas accounted for 16.0% of the revenue, and Europe, the Middle East and Africa accounted for 1.9%, mainly due to extensive acquisition activities. The EMEA region has been main beneficiary of the communications and computer replacement and upgrading that happen in 2021. Due to the fast development in electric vehicles, medical equipment market in all three regions has expanded strongly, as has the automotive market.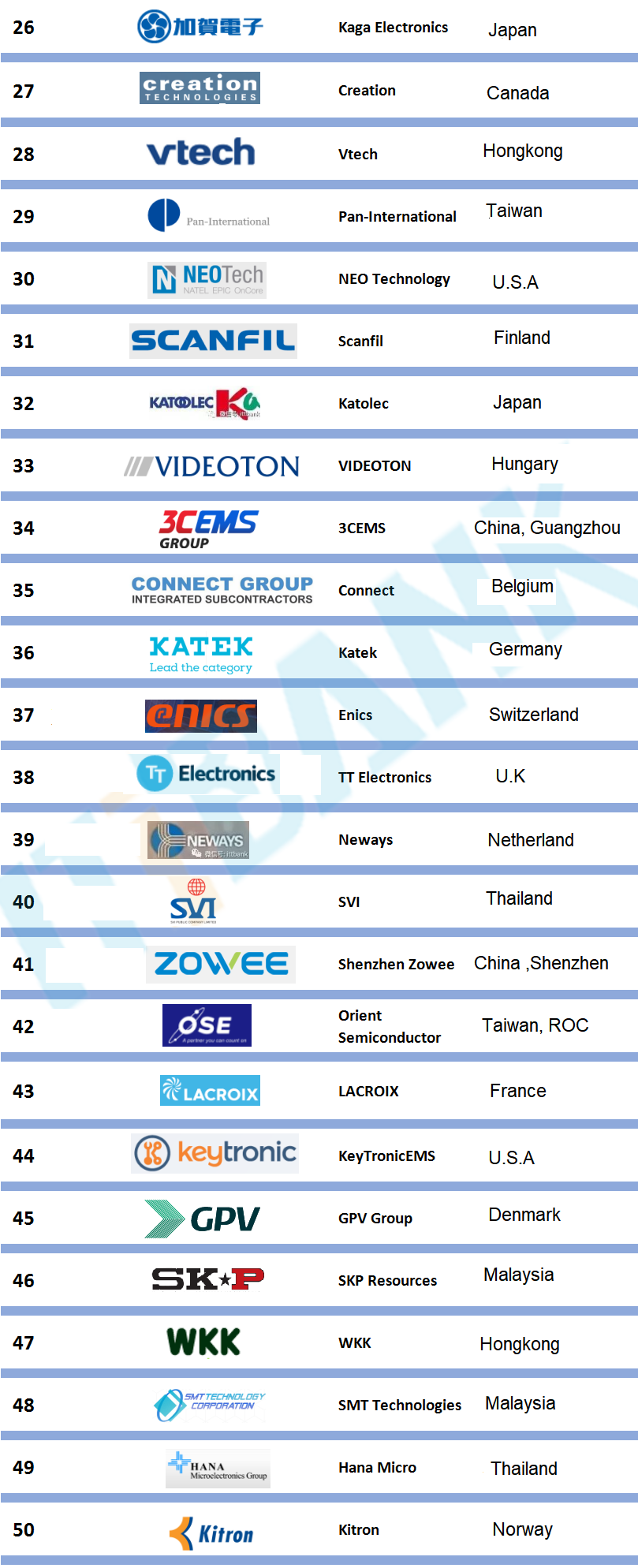 Following are brief introduction for top 16 EMS.
1)  Foxconn, Taiwan , ROC
Foxconn is world's largest OEM of electronic products. It is engaged in international top high-tech electronic products. main customers include Apple, Nokia, Motorola, Sony, Panasonic, Shenzhou, Samsung, etc;
2)  Pegatron ,Taiwan , ROC
Pegatron was born in 2008, original from Asustek, successfully combined EMS and ODM industries. At present, Pegatron has iPhone assembly plants in Shanghai, Suzhou and Kunshan. More than 50% of the company's profits come from Apple.
3) Wistron , Taiwan , ROC
Wistron is one of largest professional ODM/OEM factories, head office in Taiwan, and branches in Asia, North America and Europe. Wistron was originally a member of Acer Group. Since 2000, Acer has officially cut itself into "Acer Group", "BenQ Telecom Group" and "Wistron group", forming a "Pan Acer Group". From 2004 to 2005, Wistron ranked 8th largest EMS manufacturer globally Wistron focuses on ICT products, including notebook computers, desktop computer systems, servers and storage equipment, information equipment, networks and telecom products. It provides customers with all-round support for ICT product design, production and services. Most of customers are world-famous high-tech information companies.
4)  Jabil , USA
Top ten EMS manufacturers in the world. Founded in 1966, headquartered in Florida and listed in the New York Stock Market . In 2006, Jabil purchased Taiwan green dot with NT $30billion; In 2016, Jabil purchased Nypro, a precision plastic manufacturer, for us $665million. At present, Jabil has more than 100 factories in more than 20 countries around the world. In the fields of computer peripherals, data transmission, automation and consumer products, Jabil group provides customers all over the world with services ranging from design, development, production, assembly, system technical support and end-user distribution. Major customers include hip, Philips, Emerson, Yamaha, Cisco, Xerox, Alcatel, etc
5)  Flextronics , Singapore
One of the world's largest EMS manufacturers, headquartered in Singapore, with about 200000 employees worldwide, acquired Solectron, another American EMS manufacturer, in 2007. Its main customers include Microsoft, Dell, Nokia, Motorola, Siemens, Alcatel, Cisco Systems, Lenovo, HP, Ericsson, Fujitsu, etc.
6)  BYD Electronic, China ,Shenzhen
BYD electronics, after more than 20 years of development, has become a leading EMS and ODM (original design and manufacturing) supplier in the industry, focusing on the fields of smart phones and laptops, new intelligent products and automotive intelligent systems, and providing one-stop services such as design, R & D, manufacturing, logistics and after-sales.
The main businesses of the company include the manufacturing of metal parts, plastic parts, glass casings and other parts of electronic products, as well as the design, testing and assembly of electronic products. In addition to taking the assembly order of Apple iPad, its customers also include Xiaomi, Huawei, apple, Samsung, glory, etc.
7)  USI , China, Shanghai
The holding subsidiary of Huanlong electric, a subsidiary of Sunmoon group, provides professional services for domestic and foreign brand manufacturers in the development and design, material procurement, manufacturing, logistics, maintenance and other five categories of electronic products, including communication, computer and storage, consumer electronics, industrial and other categories (mainly automotive electronics).
8)  Sanmina, USA
One of the top 10 EMS plants in the world, headquartered in California, USA, was a pioneer in the EMS field and occupied a leading position in the industry. At present, it has nearly 70 manufacturing plants in more than 20 countries around the world with more than 40000 employees.
9)  New Kinpo group , Taiwan,ROC
Subordinate of Taiwan jinrenbao group. It is one of the top 20 EMS factories in the world. It has more than a dozen bases in the world, covering Thailand, the Philippines, Malaysia, the United States, Chinese Mainland, Singapore, Brazil and other countries and regions. Its products cover computer peripherals, communications, optoelectronics, power supply, management and consumer electronics.
10)  Celestica , Canada
A world-renowned electronic manufacturing services (EMS) enterprise, headquartered in Toronto, Canada, with more than 38000 employees. Provide design, prototype production, PCB assembly, testing, quality assurance, fault analysis, packaging, global logistics, after-sales technical support and other services.
11)  Plexus , USA
NASDAQ listed company of the United States, one of the top 10 EMS factories in the world, has a subsidiary in Xiamen, China, which is mainly responsible for the design, integration, development, assembly and processing (including incoming processing and incoming processing) of IC templates, electronic products and related products, as well as the sales of the above products.
12)  Shenzhen Kaifa,  China ,Shenzhen
The first company in Chinese Mainland to squeeze into the top ten EMS manufacturers in the world, founded in 1985, is headquartered in Shenzhen and listed on the Shenzhen Stock Exchange in 1994. Great Wall development is also the world's second largest professional manufacturer of magnetic heads and the only manufacturer of hard disk substrates in China.
13)  Venture,  Singapore
Wellknown EMS, was listed in Singapore from 1992. It has successfully established and managed about 30 companies in Southeast Asia, North Asia, the United States and Europe, with more than 15000 employees.
14) Benchmark Electronics ,  USA
One of the world's top ten EMS manufacturers, founded in 1986, is a listed company on the New York Stock Exchange. At present, Baidian has 16 factories in seven countries in North America, Europe, South America and Asia. In 2003, Baidian set up its first wholly-owned factory in China in Suzhou.
15)  Zollner Elektronik group  ,Germany
German EMS foundry has branches in Romania, Hungary, Tunisia, the United States and China. In 2004, zhuoneng Electronics (Taicang) Co., Ltd. was established, mainly developing, manufacturing and selling special electronic equipment, testing instruments and new electronic components.
16) Fabrinet, Thailand
Provide advanced optical packaging and precision optics, electromechanical and electronic manufacturing services for complex products of original equipment manufacturers, such as optical communication components, modules and subsystems, industrial lasers and sensors.
17)SIIX , Japan 
18)Sumitronics ,Japan
19)IntegratedMicro-Electronics,Philipine
20)  DBG, China
21)  Kimball Electronics Group, USA
22)  UMC Electronics, Japan
23)  ATA IMS Berhad, Malaysia
24)  V.S. Industry, Malaysia
25)  Global Brand Mfg. Taiwan, ROC
26)  Kaga Electronics, Japan
27)  Creation, Canada
28)  Vtech, China, Hongkong
29)  Pan-International ,Taiwan, ROC
30)  NEO Technology, USA
31)  Scanfil, Finland
32)  Katolec, Japan
33)  VIDEOTON, Hungry
34)  3CEMS, China, Guangzhou
35)  Connect ,Belgium
36)Katek , Germany
37)Enics, Swissland
38)TT Electronics, UK
39)  Neways, Netherland 
40)  SVI , Thailand
41)Shenzhen Zowee, China,Shenzhen
42)  Orient Semiconductor, Taiwan, ROC
43)  LACROIX, France
44)  KeyTronic EMS, USA
45)  GPV Group, Denmark.
46)  SKP Resources, Malaysia
47)  WKK, China, Hongkong
48)  SMT Technologies, Malaysia
49)  Hana Micro, Thailand
50)  Kitron, Norway
51)  PKC Group, Finland
52)  Asteelflash, France
53)  Alpha Networks, Taiwan, ROC
54)  Ducommun, USA
55)  Eolane, France
56)  Computime, China, Hongkong
57)All Circuits, France
58)  Sparton Technology, USA
59)  Valuetronics, China, Hongkong
60)  Fideltronik, Poland